About
Welcome to Advertising Premium Sales – Your branding solutions provider since 1962! We deliver quality products, services and programs to support marketing, fundraising, recognition, incentives, promotions and corporate outfitting needs. We're a one-stop source to take your program from idea to fruition.
APS is one of the largest independently owned and operated Promotional Products Distributors in the St. Louis Metropolitan area servicing local and national customers. Since the beginning our mission has been, and will always be:
"To provide the most personal and professional service to each and every customer."
Established in 1962 by Harold Shucart. In the advent of the promotional products industry, when most reps were selling out of garages and basement offices he recognized that building a distributorship was much more than making calls and taking orders. He opened the first promotional products distributorship in St. Louis with a customer service agent and fulfillment and warehousing space. The company has since grown to include 2nd and 3rd generations. Over the years our company has resided in locations in University City and Maryland Heights. We have been in our current location on Lilburn Park for over 25 years.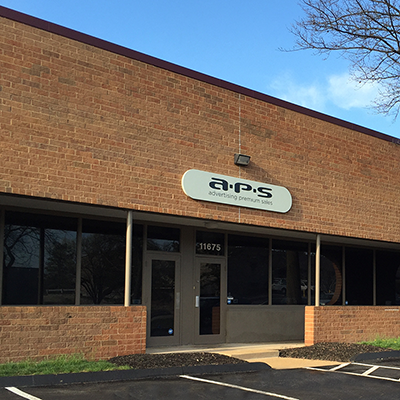 We are a full-service promotional marketing company that can become an extension of your marketing team. We help you target your audience and bring your ideas to life with products that boost your brand recognition. Our showroom is constantly updated so that you can visualize your ideas on the product. We have a graphic designer to perfect your art, a warehouse to complete your fulfillment requests and a support team to track your order from start to finish. From inception to delivery, our team can make your marketing goals a reality.
We are committed to building lifelong relationships with our customers and we are proud that our long-time customers have become treasured friends. We welcome you to visit with us and see firsthand the difference we make in helping you fulfill your goals.
Regarding Our Industry
Promotional products, advertising specialties, incentives, awards and promotional/corporate apparel make up a nearly 25 billion dollar industry in the USA, and are used by virtually every business in the world. They also have a lower cost-per-impression in the United States than prime-time television, national magazine and newspaper advertising.
Among consumers receiving a promotional product from an advertiser they had not done business with before, nearly four in 10 surveyed said they were more likely to do business with that advertiser in the future. Promotional products distributors have access to millions of brand name and privately branded products designed to represent your company or organization. As promotional products counselors our pledge to you is to apply our product expertise in finding the best quality product for your needs, at an affordable price.
Research:
https://www.forbes.com/sites/allbusiness/2017/12/14/branded-giveaways-and-other-promotional-products-do-they-still-have-an-impact/#78d30a717790
http://www.promotionalproductswork.org/media/1091/effectivemediumpowertool.pdf